2004 Stellar Awards Winners
The 2004 RNASA Stellar Award winners in each of four categories were announced at the banquet on March 11, 2004 at the Houston Hyatt Regency hotel.
The 2004 Stellar Awards were presented by Astronauts James Reilly, II and Sandra H. Magnus. Individual photos of winners are available on request.
Early Career Category Winners
5 winners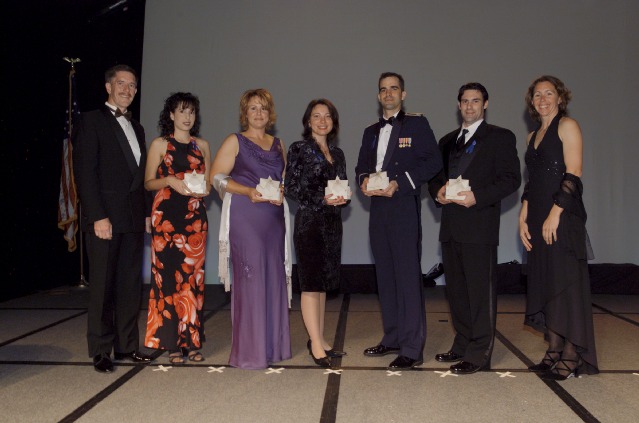 2004 Stellar Awards Winner in Early Career Category: Reilly, ?(Sagherian or Robarge), Bauer, ?(Sagherian or Robarge), Bawcom, Boyce, Magnus. (NASA)
Elizabeth Bauer of NASA JSC - Outstanding leadership in managing the engineering development of the ISS Human Research Facility.
Capt. David J. Bawcom of USAF 4th Space Operations Squadron - Outstanding leadership instrumental to the launch, checkout, and operational activation of Milstar Flight-6, and the execution of the Milstar mission, which is critical to the success of Operation IRAQI FREEDOM.
Brian P. Boyce of The Boeing Company - Technical expertise in the field of propulsion development, including contributions to successful completion of engine development and the first flight of the RS-68 engine.
Natalia Robarge of TechTrans International - Outstanding leadership for the development and implementation of operational concepts and training programs for Mission Control Center interpreters to assure international mission safety and success.
Maral O. Sagherian of The Boeing Company - Exemplary performance and significant contributions to the ISS Program in the development, test, delivery, and on-orbit operation of the Electric Power System.
Middle Career Category Winners
5 winners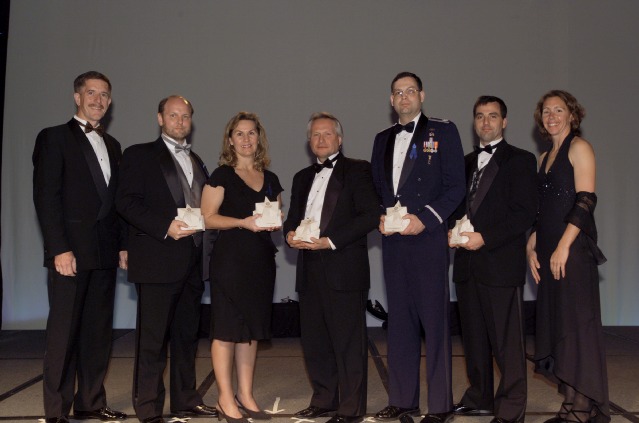 2004 Stellar Awards Winners in Middle Career Category: Reilly, Swaim, Stratton, Karas, Robinson, Hill, Magnus. (NASA)
Paul S. Hill of NASA JSC - Exceptional level of initiative, commitment and technical expertise while leading the Early Sighting Assessment Team in analyzing and characterizing STS-107 pre-breakup debris and impact areas for the search and recovery effort, and for leading the early development of the on-orbit inspection and repair of the orbiter Thermal Protection System.
John C. Karas of Lockheed Martin Space Systems - Exceptional leadership and management contributions to the design and development of the new Atlas V family of Lockheed Martin space launch vehicles, in addition to a new launch complex, vehicle processing facility and launch operations control center to meet both government and commercial launch service requirements.
Lt. Col. Alec M. Robinson of United States Air Force - Effective leadership in securing funding for the Air Force Space Program in order to develop and deploy transformational communications and intelligence, surveillance and reconnaissance system.
Patricia J. Stratton of United Space Alliance - Instrumental management and organizational contributions to Space Shuttle operations, and for her many contributions to the success of human space flight.
Richard A. Swaim of The Boeing Company - Exemplary contributions to the continuing development of excellent quality avionics and software for human space flight programs.
Late Career Category
8 winners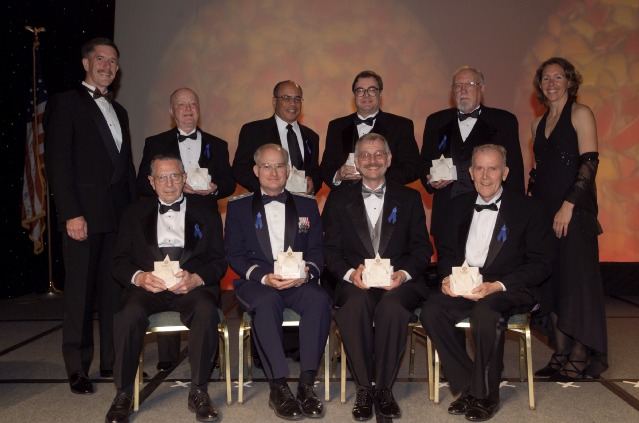 2004 Stellar Awards Winners in Late Career Category. (NASA)
Robert E. Biggs of The Boeing Company - Outstanding achievements in the design, development and continued safe flight of the Space Shuttle Main Engines.
Royce G. Forman of NASA Johnson Space Center - For sustained significant contributions in fracture mechanics methodology related to human spaceflight.
Larue J. Jones of United Space Alliance - Superb leadership and thorough planning for the Shuttle Avionics Integration Laboratory at NASA JSC, including coordinating the implementation and testing of Space Shuttle upgrades in SAIL, which will provide a safer and more reliable Shuttle for future space flights.
Gregory R. Loken of Hamilton Sundstrand Corporation - Outstanding technical expertise, demonstrated leadership and engineering excellence on the Space Shuttle auxiliary power system.
Donald S. McAlister of The Boeing Company - Lifetime achievement in the design, development, fabrication, launch support and outstanding program management of large scale liquid rocket propulsion systems program.
Joseph C. Mills, Ph.D. of The Boeing Company - Significant achievements in leadership roles over nine years with the ISS Program, including major contributions to development and delivery of every major element and system of ISS.
Maj. Gen. Paul D. Nielsen of USAF Research Laboratory - Unmatched technical and leadership depth for contributions to many cutting edge technology developments in space, enhancing war fighting capabilities and improving national defense.
Chester A. Vaughan of The Boeing Company - Over 40 years of outstanding technical leadership contributions to human space flight, including the Space Shuttle and ISS.
Team Category
7 winners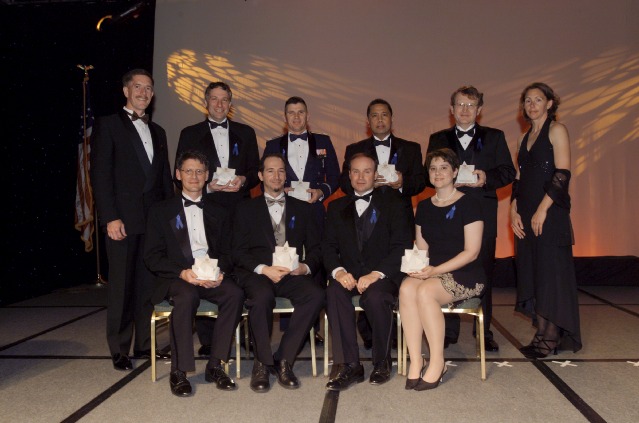 2004 Stellar Awards Winners in Team Category. (NASA)
60GHz Microwave Millimeter Integrated Circuit Power Amplifier Development Team of Lockheed Martin Space Systems - Development of processes and producibility techniques for 0.1 micron gate lengths in 60GHz power amplification applications, enabling low power high data rate communications in space.
Eastern Launch and Test Range Evolved Expendable Launch Vehicle Integration Team of United States Air Force - Successful integration of a myriad of competing requirements in a severely resource-limited environment, leading to successful inaugural flights of the new Delta IV and Atlas V Evolved Expendable Launch Vehicles.
Hubble Space Telescope Servicing Team of Lockheed Martin Technical Operations - Excellent servicing of the Hubble Space Telescope for a decade, making the Hubble a world asset in astronomy discoveries.
Integrated Powerhead Demonstrator Test Team of NASA Stennis Space Center - Safe and successful execution of the Integrated Powerhead Demonstrator oxidizer turbopump and the IPD fuel turbopump test projects as part of the NASA's Next Generation Launch Technology program.
ISS Solar Array Wing Deployment Test Team of The Boeing Company - Successful planning and execution of a ground-based instrumented deployment test to characterize Solar Array Wing panel stiction and extend acceptable wing storage life, saving significant program cost and avoiding extensive hardware risk.
Lockheed Martin STS-107 Accident Investigation and Return-To-Flight Team of Lockheed Martin - Tremendous commitment and flexibility in providing crucial and timely support to STS-107 vehicle recovery efforts, accident investigation, and subsequent Return-to-Flight tasks.
STS-107 Aerothermodynamics Investigation Team of NASA Johnson Space Center - Extremely technically complex and highly innovative reconstruction of STS-107, requiring the combined efforts of many talented and capable people across the nation, providing a critical contribution to the findings and recommendations of the Columbia Accident Investigation Board.
Return to Stellar Awards page.